Congratulations to the 2020 Student Award Recipients!
Student Research Showcase
1st Place Award
Leila Tarakji (English), "Breathing through the Dust in Samira Ahmed's Internment"
Honorable Mentions
Marwa Bakabas (Anthropology), "Transformations through Disaster: Living and Working in Refugee Spaces"
I am a PhD student in the Department of Anthropology with a specialization in Global Urban Studies. Before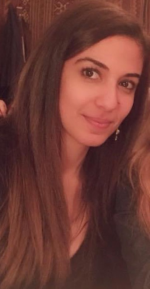 joining MSU, I worked with refugees in Greece and Lebanon for almost 5 years. In 2015, my volunteer experience in Greece shaped my deep interest in anthropological pursuits and persuaded me to explore this through an academic route which led me to a Master of Arts degree in Anthropology from the American University of Beirut. During my Master's I conducted ethnographic research to further understand the ways of dwelling and the life transformations through disaster faced by refugees living in a state of temporality in informal settlements in Lebanon and transit camps in Greece. Having a background as an academic practitioner, my work lies within public and applied anthropology to promote knowledge of the ongoing issues of violence and exile. Thus far, my research has included the study of sea border crossings, humanitarianism, displacement, memory, and disaster. My doctoral research will focus on building academic scholarship of displacement by shedding light in the context of the understudied population of displaced Yemenis.
I am excited to be involved with the Muslim Studies Program and to discuss pressing issues including civil rights and the perception of migration in the United States and across the Middle East. 
Ezgi Karaoglu (Sociology), "Understanding Foreign Humanitarian Aid in Turkey: A Marxist Perspective on the EU Funds in the Intervention of Syrian Refugees"
Lance Wheatley (Education), "An Analysis of the Interplay between Social Structures and a Muslim Students' Text Composing Agency"
Madiha Ghous (English), "Notes from the Medieval Islamic Underworld: Dastan-e-Amir Hamza and the Portrait of an Ayyar"
Wesam Shahed (Law), "Reexamination of Islamic Laws: The Entrance of Women in the Sharia Courts"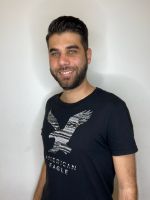 As a law student here at MSU, I had the privilege to be accepted into the Michigan State College of Law's International Law Review, where I researched about women becoming Sharia Court judges in the Middle East. This movement recently started in 2013, where there was a lot of publicity regarding the first female Sharia Court judge appointed in Palestine. I was interested in why it was so difficult for women to become Sharia Court judges, so I decided to research the arguments made against women and further researched strategies female advocates can take to increase females in the Sharia judiciary. I really appreciate the Muslim Studies Program and my faculty advisor, Professor Mohammad Khalil, for inviting me to the Muslim Studies 2020 Showcase to speak about my publication as it was a great event! The people I met and experiences I went through while researching about Islamic law has brought me closer to my faith as a Muslim, which I am really grateful for. After graduation, I plan to return home to Chicago to begin my legal career, continue my research, and perhaps even open myself up to related topics in Islamic Law! 
Gliozzo Undergraduate Student Awards
Emerson Wigand
Ahmad Hammad
Attending MSU I had a set career goal in mind and I understood what I had to do to get to where I needed and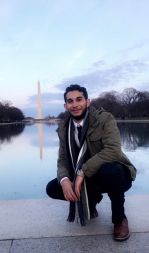 wanted to be. I was very narrow minded to the many different fields and courses taught that where out there. After taking a philosophical class that disused all of today's major problems I decided I wanted a major change. Today I have graduated as Class of 2020 with a degree in History, Philosophy and Sociology of Science. My degree has afforded the ability to take and chose courses that I wanted to take and thought pertinent to my studies. My interest in the Muslim Studies Program comes from my personal connection with the religion as a Muslim. One can never know too much and taking Religious courses assured me just that. 
Dr. Charles A. and Marjorie A. Gliozzo Scholarship for Muslim Studies
Call for nominations and applications
The Muslim Studies Program in International Studies and Programs will provide two scholarships of $700 each this year (2020-21) to undergraduates whose principal interest is in studying some facet of the Muslim world. The primary objective of the scholarship is to facilitate study and research about the Muslim world and to improve language competence. The scholarship may be availed in the Spring, Summer and/or Fall.
The recipient must have a minimum 3.3 cumulative GPA at the time of the award of the scholarship.
Only MSU undergraduate students enrolled in approved accredited programs are eligible for the award, for example students in the Muslim Studies Minor.
Students in other university programs who are studying about or conducting research on the Muslim world or developing Arabic language competence in the U.S. or overseas are also eligible for the award contingent upon the fact that it is an approved accredited program.
Muslim Studies faculty may nominate students for the award. Students engaged in studying the Muslim world may also apply for the award directly.
All nominees and applicants must submit the following:
A 300-word statement describing the nominee's/applicant's interest in the study of the Muslim world.
A resume
A grade transcript.
A letter of support from at least one faculty member.
Please send scholarship nominations or applications with supporting material to Mohammad H. Khalil, Director of the Muslim Studies Program, at khalilmo(at)msu.edu with a copy to firdaws(at)msu.edu. The deadline for the 2020-21 cycle is December 20, 2020.
2021 MSP Graduate Student Essay Award ($500)
This award recognizes an outstanding research paper by a current MSU graduate student whose studies focus on Muslims in any contexts and/or Muslim-majority communities/societies.  
Published or unpublished papers must have been written between March 2020 and the deadline, 31 March 2021.
Please submit papers by email attachment (15-25 pages with complete works cited) to Mohammad Khalil (khalilmo(at)msu.edu) and Mary Firdawsi (firdaws2(at)msu.edu).
Submission Deadline: March 20, 2021.